🐾 【WIDELY APPLICABLE】:This 2 in 1 brush is great for all coats,no matter pet with short, medium or long hair, it will do the job as you can choose the right grooming way - Pin Side or Bristle Side.
🐾 【PIN SIDE】: Rounded Pins on one side for detangling and loosening dead undercoat. The fine and rounded end pins can groom the undercoat well while wouldn't hurt your pet's skin.Suitable for daily use.
🐾 【BRISTLE SIDE】: Soft Bristle Brush on the other side can easily get rid of loose fur,dandruff and dust,giving your pet a shiny coats.It is also suitable for removing the hair and dirt that sticks on clothes and sofas.
🐾 【SMART SOFT GROOMING FEATURES】: i) -Ventilation Hole Design on pin side ensure a soft and gentle touch to skin,doesn't scratch at all,provide a comfortable grooming.
🐾 【100% SATISFACTION】: Love your new Dog Brush or your money back!We stand behind our products and make sure of your complete satisfaction.If you find any questions or quirks,plz let our friendly and responsive after-sales support team know,we'll solve it.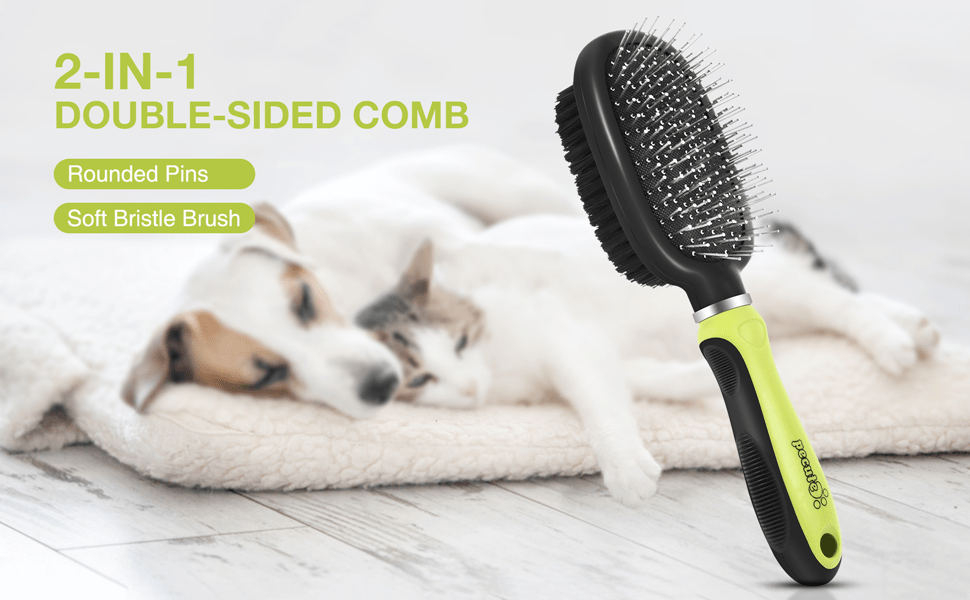 Professional Two in One Pet Brush for Your Grooming Need!
Professional Two in One Soft Pet Brush for Your Grooming Need!Say Goodbye to Sticky Hair and Furry Mess All Around!
▶Pecute Double Sided Brush will do the job and offer your pet a perfect grooming experience. It works great on long ,medium and short hairs, suitable for both small & large dogs and cats.
▶The perfect solution to reduce the shedding of your pet and give your dog or cat the healthy coat!
▶The rounded pins penetrate the top and undercoat to remove small knots and tangles, and also loosen dead undercoat. With rounded ends, it will never hurt or scratches your pet's skin.
▶The Nylon Bristles on the other side easily knock off loose hair and dirt. Meanwhile, it helps to spread natural oils produced by your pet throughout the coat to get a more smooth and shiny coat. It is also a great tool to wipe up the hair from the clothes and the floor!
Unlike other brush, Our 2 in 1 grooming brush has two special design to ensure pet's comfort:
▶Ventilation Hole lets the pins flex and contour to your pet's body, ensures a soft and gentle touch to your pet's skin.
With Pecute double sided brush, it will meet your expectations for the right pet grooming tool.
Product Specification:
--Category: 2 in 1 Grooming Brush
--Color: Green + Black
--Material: Nelon + Metal+Plastic
--Grooming Brush Size:Length 23.5cm/9.25inch,Width 6.9cm/2.72inch,Height 5.5cm/2.16inch
--Net Weight: 168g
--Gross Weight: 201g
Package Includes:
1 * Pet Grooming Brush
Click the Add to Cart button now and Enjoy professional grooming experience at home with Pecute 2 in 1 pet grooming tool!